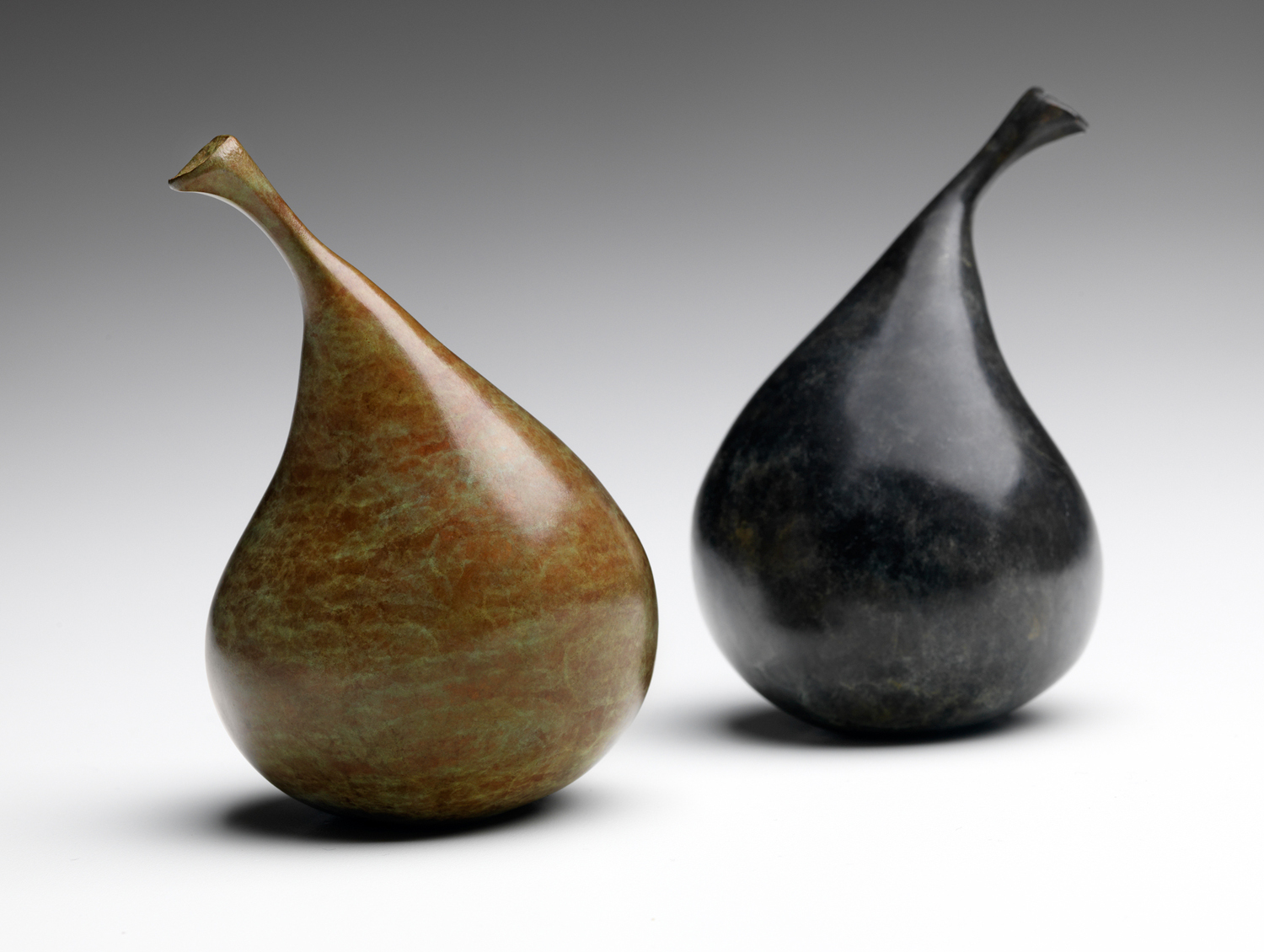 Sculptor Laura Baring-Gould creates large-scale public sculptures, epic ephemeral installations, and small intimate objects that create wonder in the palm of a hand. A love of universal shapes, as well as a fascination with elemental materials that include honey, salt, beeswax, paper, natural materials, copper and light, form the common bond within her projects. Developed independently or through incredible collaboration, each piece or experience is buoyant with mythological ballast.
Within her most recent work in bronze, Baring-Gould explores the civic realm of artwork via large public art commissions as well as the intimate world of fine objects that endow and occupy personal space. Each of these smaller pieces transforms an impermanent object into enduring metal and metaphor: handmade childrens' cloth caps become a symbol of parental shelter; seed pods a representation of potential; pears collected from local and historic orchards become beautiful forms that recall harvest and the grace of asymmetrical balance. Each piece offers an opportunity to experience ineffable weight and connection, discovery and delight.
The pears collected for this body of work were originally harvested from pear trees at The Paul Revere House, Dorchester Historical Society, local orchards and individual neighborhood trees in the Boston area. The forms are cast into bronze, hand finished and colored with a hot patina.
Baring-Gould's work has been sponsored by the National Park Service, the Institute of Contemporary Art, the DeCordova Museum and Sculpture Park, Creiger Dane Gallery, Boston Sculptors Gallery, Boston Center for the Arts, the Massachusetts Cultural Council, Scenic Hudson Inc., and through numerous grant and awards. Laura has taught for over twelve years at the University level (Clark University, University of Massachusetts, Boston), and has been an artist in residence at The Putney School, Wellesley College, Stone Hill College, the Art Institute of Boston, Clark University and most recently Silpakorn University, Bangkok. Her work has received numerous awards including Best of Boston 2006 and 1995 with recognition from the American Society of Architects and Americans for the Arts Public Art program. She has created permanent public art works for the City of Boston (Edward Everett Square, Dorchester) the City of Cambridge (Fresh Pond) and is currently completing a commission for Tower Hill Botanic Garden (Bolyston, MA). Baring-Gould lives and keeps bees in Somerville Massachusetts.